PRESS RELEASE: SAMSUNG P718 Ultra Bronze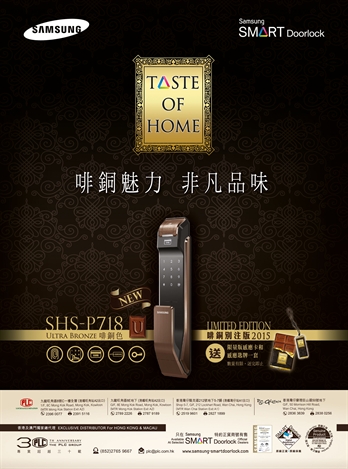 THE PLC GROUP Announces Availability of Samsung P718 Ultra Bronze
PLC 30th Anniversary Limited Edition
The PLC Group proudly announces the official launch of Samsung P718 in ULTRA BRONZE, the latest colour featured in the Samsung SMART Doorlock series. P718 integrates the latest digital security, one-touch push pull patented design, and smart home living. Customers have been craving for cool unique colours to compliment ever-changing designer doors. Ultra Bronze in the premium selection for 2015.
TASTE OF HOME
The sweetest memories are made at home...and are the inspiration for our chocolate theme. To celebrate new lock installations, home users can also enjoy the sweet reminder of home with free 1 set limited edition RF credentials with purchase. (While stock last)
MY LOVE FROM THE STARS
The drama "My Love from the Stars" made a big impression on Hong Kong fans. It sparked a variety of trends, ranging from food to clothes to lifestyle. The lovable actress Chun Song Yi (Jun Ji-hyun) always managed to look glamorous and fashionable. Everything she used in the drama all became desirable products, such as her shoes, bag, fragrance, and Samsung P717/718 SMART doorlocks, which is used by Chun Song Yi and Do Min Joon in the drama. It perfectly suited to their trendy lifestyle. The SMART doorlock played an important role for the story plot in the drama. This drama first aired on SBS from 18 December 2013 to 27 February 2.014 in Korea. After that, TVB re-broadcasted the official Cantonese version on J2 recently from 19 Dec, 2014 to Feb, 2015 due to popular demand.
Availability
Samsung P718 Ultra Bronze is available now at PLC retail shops and our exclusively selected dealers.
For more details, please see http://goo.gl/pAhdcq